The last few days were super exciting! We spent three days in Las Vegas, one more day than planned! There was so much to do we couldn't leave. The first day we spent at New York, New York, and my mom and I rode a roller coaster while my brothers played at the arcade. After we were finished at the New York Hotel we went to see the Blue Man Group. We were so close we had to wear ponchos! We were in the third row.
After the show we went in another casino called Treasure Island to get something from Ben & Jerry's. Then we took our treats outside to watch the Siren Call Show outside the hotel. The show was ok but it was just singing and dancing. It was about a pirate ship that sailed into the sirens' cove to save their shipmate but the sirens sing a song that sank the pirates' ship. The next day we went to a buffet for breakfast and then to the pool. Late at night we went to the Stratosphere. That is a building 900 ft. high and we went on a ride that shot you up 200 ft. more! You could see all of Las Vegas! It was so high up and so cool since it was dark and the lights were all on. If you ever visit Las Vegas, the ride is called the Big Shot. The ride is the red spire on top of the building.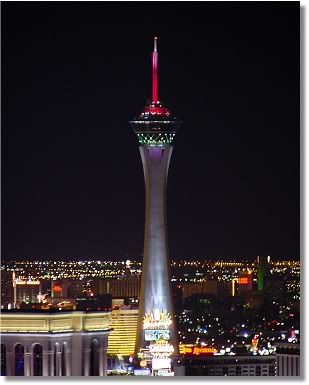 That night I slept walked out of the hotel room and woke up by the elevators! It was so scary! After about ten min. of knocking, I found the courage to go to the first floor and get an adult. I ended up getting in my hotel room Sat 2:00 in the morning! The next day was my brother's birthday and we spent the day sat Circus Circus. It was cool because in the hotel is a place called the Adventuredome that is like a really small amusement park. They have roller coasters and regular rides. We also played some games there and I won a Bear that is white and is holding a sign that says "Welcome to Fabulous Las Vegas Nevada." It was a medium prize. The day we left was Mother's Day and we ate at IHOP.